Mothers' Day Dance & Silent Auction

Saturday, May 9, 2009
This year's total: $10,000.


THANK YOU ALL!
We had a wonderful time, and the $10,000 goes directly to make a real difference in the education and future of girls in Ethiopia!
Last Updated: Wednesday, May 20, 2009
This year's dance is over - see you next May!
Need more information? Interested in helping or donating next spring?
Contact Jo-Anne Weiler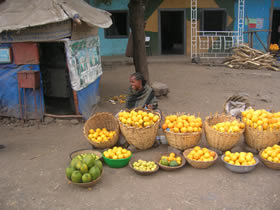 100% of all proceeds go to Partners in the Horn of Africa http://www.partnersinthehorn.org
100% of the fun goes to your family
For 2009. our dance funded a re-usable sanitary pads initiative; a cottage industry to facilitate their design, fabrication and production. This helps more girls get to school every day of the month.
Direct donations can be made thru Partners in the Horn of Africa and tax receipts will be issued directly from Partners. Just indicate "Mothers Day Dance" in the comments to contribute to the total.
---
Many thanks to our Silent Auction donors:
Silent Auction items... start your Mother's Day shopping now:
Signed Robert Luongo Jersey [Go Canucks Go], priceless!!
32 Books "The Liar's Diary", by Patry Francis; Good to Go, by Kim Zarzour; Elf the Eagle by Ron Smith, and Gift Certificate, value $100
Hollyburn Country Club Sports Shop, Gift certificate, value $100
Avalon Spa Pampering (30 min. Eucalyptus steam, 40 min massage, and mineral foot scrub), value $95
The Village Taphouse, Park Royal gift certificate, value $50
Original pottery by Laura Sylla, ceramic artist, various items
Bella Ceramica, Party for 10 value $100
1 Hour Business Consultant, Suzanne Sande, value $150
Janice Smith, One hour Empowerment Coaching session, and copies of her 2 books, value $150
Urban Tea Merchant, "Antique Style Tea Service & The O Dor tea", total value: $129
Executive Coaching, Lisa Ryan, value $500.
Mothers Day Cake Auction -- delicious cakes created by Heidi Gravel, value ... priceless
Landscape Painting, by featured artist Jannicke Wiig, value $400., starting bid $150.
OneDance gift certificate, valued at $100.00
Stonz Bootie Gift, value $130


Couples Tune up package -- body & mind!, value $500. (includes 4 hours total - 2 communications sessions & 2 couples' fitness training), Jo-Anne
Weiler, MA, RCC, MFT
Diva Restaurant, Metropolitan Hotel, value $100.
Sutton Place Hotel, one night stay with breakfast for two, value $250.
Valetor Cleaners, 16th & Marine, West Van $100. Gift Certificate
Quilted Table Runner, Frayed Knots Quilting Club, value $250
Exercise Grace, Exercise wear ( a whole outfit: pants, jacket & top!) $250 Value
Crema Coffee, $100. Gift Certificate (2)
Karen Tregillas Photography, one-hour family session at your home or North Shore Park. A keepsake album with 50 proofs & high resolution of all digital images onto a CD. 1 month prior notice required ($350. Value, minimum bid $150)
Join Mayor Richard Walton at his favorite restaurant Carmelo's Ristorante Italiano (gift certificate $100., value priceless)
Join Mayor Pam Goldsmith-Jones at her favorite restaurant The Beach House (gift certificate $100., value priceless)
Join Mayor Darrell Mussatto at Bravo Cuccina (gift certificate $100., value priceless)
---
Don't miss out on

The Aloha Whistler Family Get-a-Way Raffle:

Win a 4-room luxury slope side home for 7 days/one week valued at $3000 as the prize.



Many thanks to our fantastic Sponsors:
Our Sponsors... making it all possible
Also many thanks to the community and families who make this meaningful initiative and party of the year possible.
Together we have now sent over $95,000 to support Ethiopian women and girls, helping them build an independent, sustainable future.